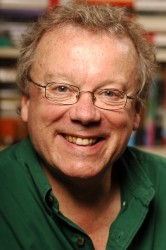 Charles Metcalfe is one of the best-known, most spontaneous and amusing wine critics in Britain. He spent 12 years as one of the Richard-and-Judy team on the TV programme, 'This Morning', and has presented many TV programmes on wine and food. He is co-founder and co-chairman of the International WINE Challenge, the world's best wine competition, held annually in London. We are pleased to announce that Charles will delivering a plenary session titled Wine Tourism – A Solution to Europe's Wine Lake? at the upcoming International Wine Tourism Conference & Workshop in Oporto. His talk will be followed by a wine tasting: The Surprising Wines of Portugal.
Charles is in great demand to talk (never lecture) about wine. His friendly, relaxed style and abundant store of winey anecdotes wins any audience, and makes the sometimes pompous and intimidating subject of wine easy and fun. He prefers his audiences to have a glass in hand. An evening of 'Wine Options' is one of his specialities – tables (of total amateurs, wine enthusiasts or anywhere in between ) compete with each other to guess the identity of a series of wines. 
You can read Charles sporadically in 'Decanter', 'Food & Travel', 'World of Fine Wine', 'Wine – Essência do Vinho', and the 'Telegraph' newspaper. 'The Wine & Food Lover' Guide to Portugal', which he wrote jointly with his wife, Kathryn McWhirter, won the 2008 Louis Roederer International Wine Book Award. Other successful books include 'The Wines of Spain & Portugal' (1988), which won the 1989 Glenfiddich Drinks Book of the Year Award, and the 'Sainsbury's Pocket Food & Wine Guide' (1995), a guide to which wines to drink with which food. 
Charles Metcalfe started his undistinguished academic career at Eton, and continued it at Christ Church, Oxford. Here he sang in the Cathedral every day (as a choral scholar), acted a lot, and learned about wine. A month's hard work at the end just saw him through his degree. He tried to run a wine business for a while with two Oxford friends and drank free for a couple of years, but realised he was no businessman. So he went into the City. 
After a spell working as an investment analyst for a unit trust group, they let him go to become a singer. Along the way, he held a variety of important posts in various fields (cook, security guard, tourist guide – the usual kind of thing unemployed actors/singers do). Little by little, singing engagements materialised – for Kent Opera, the Singers Company, the Monteverdi Choir, work around the world from Berlin to Brunei. He appeared as a soloist in concerts and opera throughout the UK and Europe, and sang in televised productions of 'Orfeo' by Monteverdi, and 'La Péricole' by Offenbach, as well as performing as a guest principal at the English National Opera. 
Then wine reared its head again. A lucky chance found him in the Evening Standard wine-tasting team, winning contests in France, Germany and California. The booze bug bit. In 1983 he wrote an article for a trade magazine, Wine and Spirit International. He co-started a new consumer wine magazine (WINE Magazine). Suddenly, Charles Metcalfe was a wine expert! 
He still sings in the shower. He lives near Gatwick with his wife, three occasional children, three cats, 8 chickens and a musk turtle. If we are lucky we'll get a song from him at the Conference!
We we had the opportunity to speak with Charles about wine tourism.  Below are his  responses to our questions:
1) As the 2011 Wine Conference takes place in Porto, Portugal this year, how do you view Porto as a wine destination? 
Porto is a great wine destination, with the attractions of the port lodges in Gaia (the other side of the river), adequate hotel space, lots of good restaurants in Porto, Foz and Matesinhos, and a good kicking off point for visits to the Vinho Verde, Douro, Dão and Bairrada wine regions.
2) You have previously mentioned the Mariann Fischer-Boel wine reforms, can you discuss these reforms and their affect on Europe's wine tourism industry?
I'm not sure how the MF-B reforms will impact directly on the European wine tourism industry. They're more designed to ensure the continuing health of Europe's wine industry, by removing the subsidies that have perpetuated an artificial market for decades. And European wine tourism is dependent on a healthy wine industry.
3) What challenges do you see facing Europe's wine tourism industry today? Do you see many differences in European wine tourism compared to tourism in other parts of the globe, such as Australia, the US, or Argentina among others?
European producers are only just beginning to wake up to the possibilities that wine tourism offers. The main challenge is that the vast majority of wine producers are small, family-owned businesses, and can barely keep up with making and selling wine, together with the ludicrous bureaucratic requirements placed on them by too many EU states. They can hardly afford to employ another staff member to start a tourism side to the business. So they need another family member to join them, or one who is already working to take on increased responsibilities. And the wide geographical spread of wineries means that many lie well away from population centres that would offer a ready source of customers. Larger companies should be more proactive in showing that wine tourism can really increase profitability.
4) How has blogging contributed to your wine world view? In what ways does your blogging network expand your awareness of changes in the wine industry and how do you view blogging's growing role in the industry?
Blogging is another source of wine news, but not the only one. And it should be a tool that wine producers use to drive consumer interest to their products. Together with judicious use of facebook, Twitter, YouTube and other social networking media. The most effective and successful wine bloggers are just as deserving of invitations to wine events as wine writers.
5) What wine destination would you suggest as the site for the 2012 International Wine Tourism Conference?
I think the South of France is worth considering, and would pick Montpellier. Lots of good wine made around there, and some younger producers who are much more aware of the importance of reaching out to their customers.
To end with here is a video interview with Charles talking about wine tourism in Portugal and Spain: