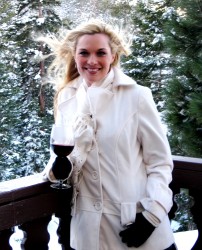 Charity Winters, the charming and delightful host for the The Celebrity Wine Review TV programme is looking forward to her trip to the "Old World" wine destination of Portugal for the upcoming International Wine Tourism Conference, Oporto 2011. Charity has heard so many positive things about wine and tourism in Portugal that she can't wait to get reviewing wines and interviewing wine makers on location and on site during a packed conference programme.
Celebrity Wine Review is a web TV show based out of  Hollywood, CA. The team harnesses the power of social media tools to reach wine lovers every day. Audiences love their content, they interact with it, and more importantly to the winery – they interact with the fans on their behalf. The winery too, can join in the conversation if they wish so that they can respond in concert with them as they post their content.
Last in the trio of interviews with the Celeb  Wine Review TV team making the long journey from California to Oporto is Charity, the show's host:
1) As the 2011 Wine Conference takes place in Porto, Portugal this year, what would you say your impressions are of Portugal as a wine destination visit?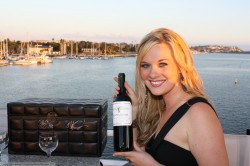 One of the many wonderful perks of being the host of "Celebrity Wine Review" has been forging fabulous new friendships in the wine-world. Several new friends that have sought me out online this year have been from Portugal & specifically, the reputable Douro Valley area- which is said to be one of the Top 10 Wine Destinations in the world. I know Portugal has a rich wine-making history that dates back to Roman influence during the third century A.D. That said, I am eager to learn more from those whose wine-making traditions have been passed down from generation to generation, throughout such an impressive history. Additionally, anyone who has watched our show, knows that I have a very unique wine palate that tends to gravitate toward the "sweet stuff," so I am thrilled that this year's conference destination is the capitol of one of my very favorite types of sweet wine: PORT!
2) As the host/presenter of Celebrity Wine Review TV, you must be passionate about wine! What influences would you say led you to involve wine in your career?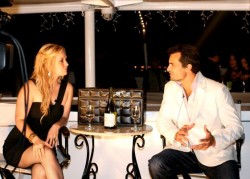 My influences in the wine have come through the most important women in my life; my mother and my grandmother. My grandmother, a professional culinary chef and my mother, a fantastic cook and author of numerous health and nutrition books and cookbooks, taught me to value the art of cooking, which often included cooking with wine. Now, with my own family, I love to cook. As a life-long creative artist on-stage and in television, I've also found the kitchen to be another place that I can go to, to create and express myself in a way that greatly benefits others. And in my opinion, no fine meal is complete without an even finer bottle of wine to compliment it! In my family, I also grew up traveling and learning about other cultures, which developed in me a deep desire to adventure into the unknown and expand my understanding and appreciation of the world. I believe that is my favorite thing about the career I now have in the world of wine;  I am always expanding- meeting new people, experiencing new places and learning about new wines. I have found it to be one of life's great adventures!
3) Growing up in California, what could you tell us about the region as a top American viticultural destination? As the wine tourism conference has been held in European old world regions three times now, how do you think that reflects attitudes to new world wines in the wine tourism industry?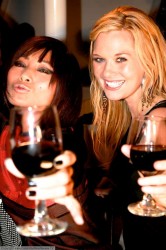 Being born and bred in California, I have great personal pride in my beautiful sunshine state! Although just a baby in wine-making years, I believe California has much to offer as a wine producing region and wine tourism destination. We've come a long way and are obviously doing something right since our state makes up approximately 90% of the wine production for the United States. But we still have much to live up to when it comes to Old World wine-making history and reputation.  I believe we are aware of those who have gone before us and many California wine-makers see the Old World example as a bench mark so to speak, to learn, grow and better ourselves from. Others, while valuing the tradition and experience of Old World style, choose to see "Old World versus New World," as a challenge to do things in a "new way," thus, creating variety and in turn, competition. With over 1,200 wineries across the state, the popular regions of Napa, Sonoma and Paso Robles, California draw wine tourists from around the world, throughout the year. Additionally, many California wines such as Stag's Leap, Ridge Vineyards and Mondavi have won accolades and awards internationally and I believe, will continue to as we perfect our own unique identity as an "international up & comer" and perhaps one day,  as a wine-world "rising star!"
4) The subject of your books focuses on health and beauty, how do you think wine features – both personally and communally – in a happy body and soul?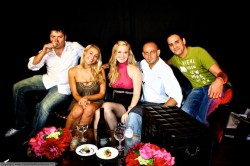 My books, The Healthy Balance for body & Soul and The Beautiful Balance for Body & Soul, are all about the importance of finding "balance" in one's life. Too much work, too much play, too much of anything in excess isn't in our best interest- neither physically, nor spiritually. The same is obviously true of wine as we have all likely witnessed from time to time, with humorous stories to share for it! However, in my opinion, (and that of many modern medical doctors!) moderate consumption of wine is not only good for the body, it is also good for the soul when it is shared in the company of friends and family, over good conversation and a great meal. I love the way that wine complements so many things so well and brings out the best flavors to be savored in a well-balanced meal, as well as those to be enjoyed in a well-balanced life.
5) And finally, what wine destination would you suggest as the site for next year's wine conference?
I would love to see one of the quickly rising, wine-star destinations as host of next year's conference. In our work on Celebrity Wine Review TV, we have heard much buzz coming out of South Africa's Stellenboch region, just outside of Cape Town. The region is said to boast outstanding Chenin Blancs and is becoming more and more recognized in their development of bold reds, such as "The Minotaur," an internationally award-winning Merlot-Malbec blend from Doolhof Wine Estates that we featured to rave celeb reviews on our Celebrity Wine Review Cruise this summer. ~
Celebrity Wine Review is a one of a kind opportunity for any winery, there are not many (if any) people out there that offer what they do. Also, as their fan base is growing exponentially, they are getting local print & TV attention, they're uniquely positioned in California and Hollywood, so all in all, this is a great opportunity for a winery to ride the wave for a relatively small investment, especially if they happen to be producing in Portugal. 
Have a look at the video on the  Celebrity Wine Review Programme Website and see for yourself what they have been doing for wines and wineries.
Register as a conference delegate and enjoy meeting old friends and making new ones and most of all gain from your memorable expeience in Oporto.