información en

| information en

 information in 

 informazioni 

Dates & Venues for 2015/2016
Buyer meets Italian Cellar (26 – 28 Ocober 2015) Hotel Villa Vecchia, Monteporzio, Lazio
Buyer meets Iberian Cellar (22 – 24 February 2016) Venue TBA
Why Participate?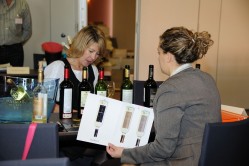 The Wine Pleasures Workshop provides the perfect business environment for small to medium sized boutique wineries to present their wines to wine buying decision makers during the workshop and in addition also gives wineries year-round promotional benefits.  As part of the workshop package wineries, once enrolled will gain access to all particpating buyers  which means both wineries and buyers are able to communicate prior to the event and begin to set appointments. This unique feature  enables both parties to maximise their time together in the face to face meetings.
Benefits
Generate new leads prior to the event.  All wineries will receive buyer profiles and a schedule of one-to-one meetings.  Wineries are able to contact any Hosted Buyers who have expressed an interest in meeting them, in order to set up  appointments.
Complete your schedule of meetings by participating in the Themed wine tasting on Day 1 of the event. All wineries can include up to 3 references in the wine tasting. The purpose of the wine tasting is for both buyer and celler to complete their schedule of appointments.
Gain added exposure by participating and including your wines during lunches and dinners. Dining with the buyers in an informal setting and trying your wines with the meals provided is an excellent way of reinforcing the effectiveness of your busniness meetings.
Increase your brand awareness by placing your banner in the corridor leading to the Workshop entrance.