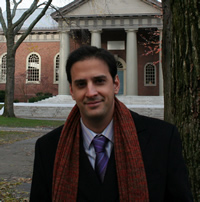 The Celebrity Wine Review TV hosts and crew will be covering the whole of the upcoming International Wine Tourism Conference, Oporto 2011. Celebrity Wine Review is a web TV show based out of  Hollywood, CA. The one constant on the show is wine, everything else is up for grabs. Their hosts are passionate about wine and invite their viewers to experience adventures with wine. The programme is an ideal vehicle for better wine  branding and marketing paticularly in the USA. As the programme is also extremely well connected in the social media communication world the programme reaches potentially billions of people worldwide.
We recently had the opportunity to interview 3 of the Celebrity Wine Review TV team making the long journey from California to Oporto. First up is Show Producer, Roie Edery.
1) As the 2011 Wine Conference takes place in Porto, Portugal this year, how do you view Porto as a wine destination?
Portuguese wines are experiencing exciting growth worldwide. The beautiful city of Porto has an amazing opportunity to position itself as the wine tourism gateway to many of Portugal's wine regions.
2) With wine tourism growing across the globe, how has it been influenced by technology and the internet since you began your career?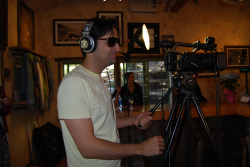 As a producer of an entertainment wine review Internet TV show, I see firsthand the impact The Internet has had on wine tourism. Quite often we hear from our viewers that an episode they've watched was what prompted them to want to visit a specific wine region sometimes even for the first time in their life. Our show visits wine regions across the world, and puts front and center the story and people behind a product.
In today's visual world customers want to connect and identify with a product and the people behind it. We've hiked the hills of Priorat to interview the winemaker of a small boutique winery (during the 2nd International Wine Tourism Conference held in Spain 2010), spent harvest with an 83 year old Napa Valley grape producer and winemaker on his 65th harvest, and flew on a private plane with Alexander's valley winery owner all to introduce our audience to the character behind the beverage, and the response from viewers has been an eagerness to visit those same places and experience what our hosts experienced for themselves. With the power of internet technology we were able to promote our show on a $0 budget and get from 0 to 500,000 video views in 9 month across all channels. All this would not be possible without the Internet and societies' use of it to find the next great travel destination.
3) With regards to wine tourism, how important do you think it is to utilize social media sites and the internet in general? Do you think wineries across the globe aren't reaching their potential consumers, and if so how would you begin to improve marketing in the wine tourism industry?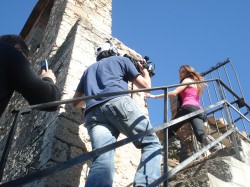 For me, wine tourism, in its simplest form, is about allowing a wine enthusiast to connect with their passion. A wine tourist has chosen to venture out and see first hand how wine is made, vine to bottle, meet the people behind it, and soak in the surroundings. The Internet, specifically social media, is an ideal way to portray those experiences to a potential wine tourist, and compel them to go on a wine tour.
By taking simple steps such as publishing pictures of harvest, maintaining a blog or uploading short mobile phone video clips, wineries can go a long way towards reaching their customers at a fraction of the cost to launch a marketing campaign on traditional media.
On other hand professionally run social media campaigns can help the wineries to raise brand awareness and create a following that will stick.
4) How vital do you think social media is compared to say film production or television programs dedicated to wine, such as Celebrity Wine Review TV, to build up wine tourism?
The key difference here is not the type of content, but its delivery method. Traditional media (broadcast TV, print) is a unidirectional platform, a monologue that might entertain the viewer, but does not engage with that person. If done right, social media is about creating a dialogue with your audience, centered around your content.
Consuming content via traditional media is a bit like visiting a museum and viewing the art behind a glass wall, whereas consuming content via social media is an invitation to touch and experience the art up close and interact with others as your sharing the same experience.
At Celebrity Wine Review TV our staff and hosts continually converse with our fans via social media. When we arrive at a location we not only shoot our professionally edited episodes, but we also shoot behind the scenes mobile videos that allow the fans to obtain a behind the scenes view of the vineyard, set or wherever we happen to be. This type of content is extremely entertaining, yet simply does not fit the format of traditional media.
5) How do you think attracting consumers to wineries differs, if at all, between Europe and the U.S with particular reference to old vs new world wine regions?
The casual wine tourist demands much more than simply really good wine to compel them to take the time and spend their money to go on a wine tour. I see real value in packaging other elements around the wine tour to provide an inviting trip. Themed tours, luxury accommodations, additional non wine related activities all have the ability to further attract the wine tourist who might not be a die hard wine lover and is looking for a vacation and entertainment component as well wine tasting.
Old world or new world, the key to attract more wine tourism to your region is variety.
6) And finally, what wine destination would you suggest as the site for next year's wine conference?
We'd love to see European and American wine tour operators get together under one roof, regardless of the location. The exchange of ideas between the two different approaches should be exciting.
Celebrity Wine Review is a one of a kind opportunity for any winery, there are not many (if any) people out there that offer what they do. Also, as their fan base is growing exponentially, they are getting local print & TV attention, they're uniquely positioned in California and Hollywood, so all in all, this is a great opportunity for a winery to ride the wave for a relatively small investment.
Have a look at the video on the  Celebrity Wine Review Programme Website and see for yourself what they have been doing for wines and wineries.