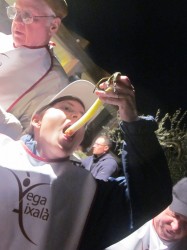 "In the spring a young man's fancy lightly turns to thoughts of" calçots! (with apologies to Alfred Lord Tennyson).  Calçots (pronounced cal-sots) are a traditional Catalonian dish which is served only when the calçots are ready for harvest which is any time from Januaryish to March – April.  Wine Pleasures in colabaoration with Wimum organised for a group of wine importers to visit the highest winery in Catalonia at 900 metres (Vilanova de Prades) for a terroir visit, tasting and Calçotada at Vega Aixelà in the DO Conca de Barberà (misleading as the terroir is actually slate and more like that you would find in the DOC Priorat). 
The calçots look like a small leeks and are cooked simply by roasting them over an open fire until the outer layer is black.  Once they are black, take them off the fire, peel the blackened leaves off and eat.  With this simple preparation you won't believe how soft, sweet and succulent they are. 
As an added treat, dip them in romesco sauce.  There are many recipes for romesco sauce but the common ingredients are tomatoes, almonds, garlic, toasted or fried bread and balsamic vinegar.  Blend well until smooth and this makes a fantastic sauce with the calçots.
Besides the traditional method, we also ate the calçots cooked like tempura and served with a fantastic Chocolate Balsamic sauce.  The calçots were good but that sauce was "plate-licking" good.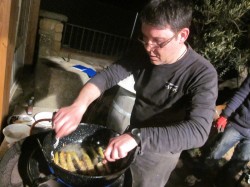 But calçots were just the first course of the calçotada.  Once the calçots were all roasted, the fire was used to cook an assortment of meats including lamb and two types of sausage.  We also feasted on tortilla (aka Spanish omelet) and fried artichokes with alioli.
Dessert was both intriguing and delicious.  It was a dollop of dark chocolate mousse served on a piece of bread and topped with olive oil and salt.  Yes, you read that correctly: bread, chocolate, olive oil and salt.  The chocolate was the most powerful flavor but the olive oil and salt added their own distinct harmonies resulting in an enjoyable mouthful.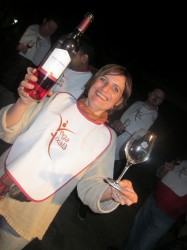 Throughout the feast, Winum served up their wine including the Dhouda Harvest 2008 which went very well with the calçots and the Vega Aixalà Criança 2007 which complemented the meats.  It was definitely a Catalonian feast to remember fondly.