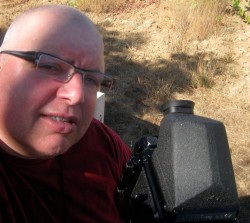 C. Jason Mancebo has been working in the technology industry for nineteen years as a developer, manager and public speaker, primarily in and for digital media. As well as this he has several patents pending in the fields of real-time digital video storage and dynamic content libraries and file systems. Jason is attending The International Wine Tourism Conference (31 Jan – 2 Feb 2011) to discuss the art of success when it comes to utilizing the Internet, with imagery, story and social media to effectively bridge the gap between love of wine and the wineries.
As one of the speakers at the 2011 International Wine Tourism Conference, we had the opportunity to speak with Mr. Mancebo about social media and networking in the wine tourism industry. Below are Mr. Mancebo's responses to our questions: 
1) As the 2011 Wine Conference takes place in Porto, Portugal, how do you view Porto as a wine destination?
Ahhh, Oporto. Of course, the center of the world of Port, but additionally, the key destination to learn, explore and experience the diverse and rich history and culture of the Portuguese wine industry.
2) How do you think social media and networking sites can be used to promote wine tourism? What are the best ways to utilize them in order to connect wineries with consumers?
Social media of all kind is a unique relationship between the winery and it's "friends" or "followers". I believe that wineries have a unique insight to these consumers who are more willing to interact and accordingly, more willing to engage. Put for effort to harvesting and nurturing relationships with these tools and have lifetime relationships. 
3) With wine tourism growing across the globe, how has it changed or developed, if at all, since you began your career in the wine industry? 
Accessibility to wineries and winemakers is now much more available than ever before. Social media connects interested people and allows diverse cultures to come together to learn and experience both old and new ideas.
4) Do you like to participate in guided trips or travel independently? What are you looking for in a typical wine excursion?
 I travel independently, but suggest those who prefer a guided adventure, look for that. I'm looking for unique experiences with insight to wineries and winemakers and their insight, decisions and opinions on their and other peoples' wines.
 5) What wine destination would you suggest as the site for the 2012 wine conference?
McLaren Vale – Australia, Piemonte – Italy, Mendoza – Argentina, or Paso Robles – California, USA.
Still dithering about whether to attend the 2011 International Wine Tourism Conference? Dither no longer and register now as a Conference delegate , broaden your horizons and get inspired!