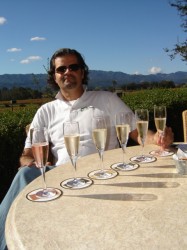 It's a welcome back to the International Wine Tourism for Aldo Senna Franco of Sao Paulo based Alfran Tour Operadora de Turismo who is clearly establishing his company in the wine tourism market for Brasilian wine lovers. Aldo attended the first ever International Wine Tourism Conference and Workshp back in 2009 in the Spanish seaside wine town of Sitges in the Garraf-Penedès wine region and since then his wine tourism business is clearly on the increase.
As one of the attendees at the 2011 International Wine Tourism Workshop , we had the opportunity to speak with Mr. Senna Franco.  Below are his answers to our questions: 
1) As the 2011 Wine Conference takes place in Porto, Portugal this year, how do you view Porto as a wine destination?
Porto is a very important wine tour destination because of their own product … The Porto wine is unique, and all the passengers want to have this unique experience …. Specialy for the brazilians, we were colonized by Portugal, and we have a very close relationship with Portugal people …
2) As a travel organizer based in Brazil, what could you tell us of the your typical audience? What do you find to be the areas of most interest for your travel groups?
For my experience in the wine tour destination, brazilian people are getting strong knowlodge about the wine as a product, and traveling to wineries to obtain a closer look to the process and have a outstanding chance to all the senses that this magnificent drink brings to everyone … Nowadays, South America – Argentina, Chile and Uruguay, including brazilian wine regions
3) As you work with a number of different industries, such as food, wine and hospitality, what do you find to be the strengths and weaknesses of each?
Strength – specific traveling to a specific group of people / Weakness – lack of knowlodge about the wine travel experience among the tourist / Wine tours
4) What activities do you look to combine with wine visits on your trip? Do you find these activities are a key selling point to your audience?
There are so many activities to combine with a wine tour experience, such as adventure ones, as a relaxation ones … It will depend the enviroment that you are searching for a specific wine tour destination, also the tourist desires / YES, you must combine the wine tour with another kind of experience during the trip in order to obtain customer satisfaction
5) What wine destination would you suggest as the site for next year's wine conference?
France (Borgonha + Beaujolais) / Italy (Piemonte) / Germany (Rheingau)
If you are a wine tourism experience provider looking to reach out to new clients then you should really be attending the 2011 International Wine Tourism Conference and Workshop and make a date to meet Aldo, and some 40 – 45 other travel organisers at the Workshop