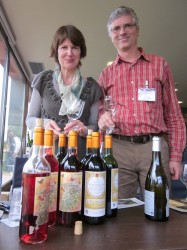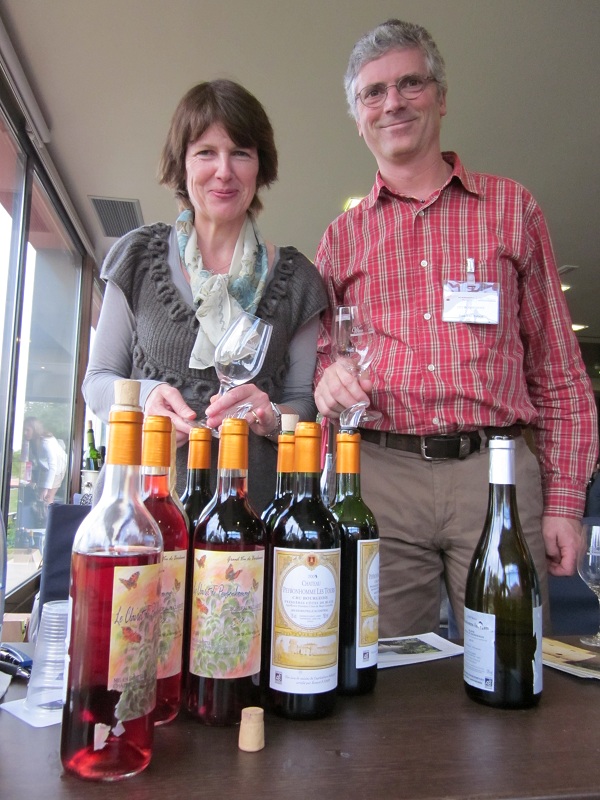 It was a dark and stormy night…no really.  It was a stormy night in December 1999 that convinced Jean-Luc and Catherine Hubert to convert their two vineyards to organic and to use biodynamic methods.  The storm had winds up to 200 km/hr, uprooted many trees and even damaged the tower of the castle they call home.  Jean-Luc describes it as "apocalyptic" and as they listened to the winds howl, he realized he did not like working in conventional vineyards where herbicides and pesticides kill more than their intended targets.  The next year they stopped using chemicals and started the transition to biodynamics.  It was a major decision and one they are still happy with.  They like the feel of life in the soil and the good link with nature. The Huberts own two wineries in the Bordeaux.  The original is called Peybonhomme and has been in the family for generations.  The second, La Grolet, was purchased in 1997.  Both were converted to organic and biodynamic processes in 2000. 
Jean-Luc and Catherine are fifth generation winemakers.  The sixth generation, their 30 year old son Guillaume, is already learning the business and the seventh generation was born just two weeks ago.
We met the Huberts at the Wine Pleasures International Organic Workshop in Barcelona where we tasted their Chateau Peybonhomme-les-Tours Le Blanc Bonhomme 2010 which is a blend of 50% Semillon and 50% Sauvignon.  Light straw in color, we are treated to an inviting nose of dried fruits and almonds.  It is silky in the mouth with a pleasant finish that would go well with chicken or fish.  This offering from Peybonhomme strikes a wonderful balance between the acidity of the Sauvignon and the complexity of the Semillon. Voilà!