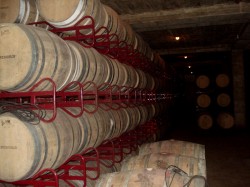 Winery visit number two to Bodegas Pinord in the Penedes region has restored my faith in the Spanish wine tourism industry.  I recently learned that wine tours are very uncommon  in these parts which raises the question, with a great product and high demand why is there so little interest in the process and people making vinos many are so fond of? When done right, as this tour was, learning the history and getting a glimpse of the effort that goes into a bottle of wine is what every Saturday morning cartoon yearns to be – fun AND educational. The product sells itself. Though it's grown to be an extremely large producer (putting out over 20 varieties of wine from the Penedes region) the Tetas family remains an intricate part of production vine to bottle. Mireia Tetas (Export Manager)  gave us some history on her great grandfather, Jose Maria Tetas's winery. Mireia's comfort and knowledge showed that she's from a family that's been making wine for over 150 years.
Not once did I catch wind that she was selling me a product. When Mireia was finished I couldn't wait to get my hands on a number of their wines. THAT'S an experience (see Mi Cava es su Cava for tie in.) Personally the "environment loving, Colorado enthusiast, health nut" -or whatever label you'd like to throw my way- was very excited to try their organic wine. The 2005 Clos de Torribas bottle of Tempranillo also caused a twitch of excitement.  Just what I was hoping for genuine, informational, and inviting start to a tour.
I was taken through the winery (that spreads over two blocks in Vilafranca) by one of their Oenologist's. He was kind enough to give me the best possible explanation each step of the way in simple Catalan seeing that we shared no common language. It became apparent that winery tours are uncommon as I was greeted with puzzled glances when entering each room. Not to worry, I was assured hippopotamuses have fast trees. *Note to self learn Catalan. Rows of French, American, and Hungarian barrels line cellar walls. Their Grand Reserve labels spend two years in the barrels and three in the bottle before they're available for enjoyment. It's not too early for
a glass of wine at 10 am is it?
The vast size of all the production facilities are impressive to say the least. Rooms with over 15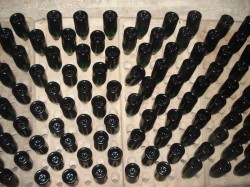 steal containers each holding 85,000 liters of fermenting wine is something worth taking the time to appreciate.
The winery made it's mark being the first to produce Pearl wine. Pearl wine is reminiscent of cava yet Mireia set pearl wine apart because it is sweeter, fruiter, younger, and less bubbly then cava.
The Bodega Pinord winery is nothing short of impressive. They make 20 some varieties of wine. The sheer scale of the production equipment is astounding. It's a sight worth taking in. The employees are knowledgeable and welcoming. Overall it's an enriching experience. Spain I implore you get out in your own backyard learn a bit about the great wine this region grows and produces. Those of you that happen to be in the Penedes region may I encourage to to take an hour or two of your day to stop by a winery, even if it's not the praised Bodega Pinord.
Delegates of the 2010 Wine Pleasures Conference will have the opportunity to tour Bodegas Pinord Winery and taste a few of their products.  Tune into the video below for a glimpse of the winery and mention of wines to be tasted.
Jessie Beyer, wine travel writer for Wine Pleasures