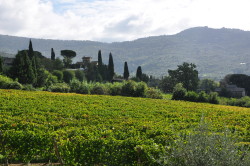 Italy is probably first choice for many as a grape escape destination in the Old World. Perhaps the most visited wine region in Italy is Tuscany and most wine tourists making the journey to Italy will most likely be landing at Rome Fiumicino Airport or Leonardo da Vinci as it is also called. The FIT traveler will undoubtedly be a DIY wine tourist and one of the first things to do upon arrival will be to rent a car as most wineries tend to be down hidden lanes and not accessible by public transport.
So which car rental company should you choose? Better question would be which car rental NOT to choose? The answer to the latter question is clearly the Italian car rental company Locauto who since 2013 are partners with Enterprise Rent a car.
As Wine Pleasures organizes events and wine tasting tours for thousands of people each year in Italy we often need the use of a car rental company. We had the misfortune on 16 December 2015 to contract the services of Locauto and here is my story.
Upon arrival at Rome Airport I mistakenly made my way to the Hertz desk (our usual car rental provider) and gave in my papers and was surprised to discover we were using a different company namely Locauto.
Around the corner at the Locauto counter there were 3 ladies sat down chatting and having a laugh amongst themselves. After finishing off a few chuckles and words which amounted a 2 minutes, the one in the middle reached out for papers in hand and started the car rental admin. I was then asked to fill in a form requesting information provided at the time of booking online. By now 4 people had made a queue to get a car and at which time one of the employees went off somewhere while the other decided to do some computer work she obviously hadn't finished prior to the 3 having a chat.
15 minutes later when all was signed I was told that the car was not ready but would be in 15 minutes and in the meantime I should make my way down to the car pick up area. This I did taking 7 minutes to get to the pick up spot. With papers in hand I was ready to go but this was not going to be an easy task. I was told that the car was not ready yet as it had to be washed and oil checked and so on and it would take 15 minutes to which I said that I could not be delayed any further as I had a meeting appointment somewhere in Marche to keep and suggested they gave me another car or up or down grade. Indeed, I pointed to a Renault Clio which was the model paid for and was told that the car I pointed out was automatic and therefore more expensive. 25 minutes later my car arrived and guess what it was the same Renault Clio that was parked up when I arrived and it was a manual drive.
Next came the damage check and I was shown a piece of paper indicating more than a dozen scratches or dents and was informed that the petrol gauge did not show a full tank of petro l as it was faulty and was told that I should trust Locauto or more specifically the girl in charge that the tank was full – well all of this took 10 more minutes making a total from desk to driving out of the car park a whopping 57 minutes !!
Well after that nothing else to report and yes I arrived about 30 mins late for my appointment.
Next day and just before arriving at the airport I stopped to refuel in order to return the car full of petrol and guess what? The fuel gauge needle marked a full tank and I thought to myself you lying  xxxxxxx
It was touch and go to get to the airport on time and in time to make check in. Returning the car proved to be another difficult task. With 7 employees seemingly all doing  the same thing looking at papers on a podium, I wasn't prepared to stand around waiting again until someone decided to become available to sign the car in and so applied the shouting strategy to get a speedy attention and this worked.
6-7 Minutes later and the key was taken off me and the time of return recorded. Then came the inspection procedure and was told that there was some new damage on the front right side-wheel which were scratch marks. I said I had not had any accident nor had I hit anything or scuffed a curb. To which I was told that I should have pointed out this damage at time of pick you. Yeah 57 minutes waiting around and you want me to spend more time checking for scratches. As a customer I trust you do your job ad mark all the damage before handing the car over I should not need to check anything.
Then I raised the matter of wasting my time at pick up and the petrol gauge needle to which I was told sometimes it works and sometimes it does not. Further delay arguing was not an option as check in deadline was imminent.
Back in Barcelona our company wrote to Locauto outlining our cause of concern stating while we would not seek compensation for time-wasting and the difference in the cost of petrol of a full tank and a 90% full fuel tank we did not expect to be charged for scratch marks not caused during our 24 hour rental period.
Locauto replied using a no reply email address stating how much they had charged our credit card for damage without mention or apology for the inconvenience caused. Later through their website we endeavoured to submit our reply and claim only to find that the link to bring up a form did not work.
We went to twitter to find the Locauto account – they haven't got one but there is the #Locauto which makes for interesting reading – most of the comments warning people to stay clear of Locauto. We looked at the Locauto FB page and were surprised how high the like number was at just over 3,000 people but then we went to the Hertz FB and page and saw 247,000 + likes which makes 3,000 seem like a true reflection. Indeed, we thought that these likes were most likely to be forced employee likes. We googled Locauto – pages of bad experiences including on TripAdvisor. Well enough was enough and so we decided to go public with our experience and warn other car rental users who NOT to work with.
From our experience I feel we must echo the stay clear of Locauto as per #Locauto as the service is frankly shoddy and we would say it is a company not to be trusted. As a business, it is not a sustainable one as their strategy is to get sales as opposed to building up loyal and happy customers. If Enterprise Rent a Car are partners they should take heed of the customer service crimes committed by Locauto staff and management and in view of the Locauto experience we feel we must also black list partners Enterprise.
Anthony Swift
Rental agreement number 25233.
We'd love to hear other people's experiences. Please leave a comment.