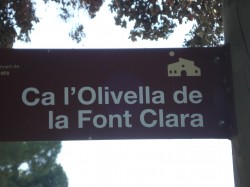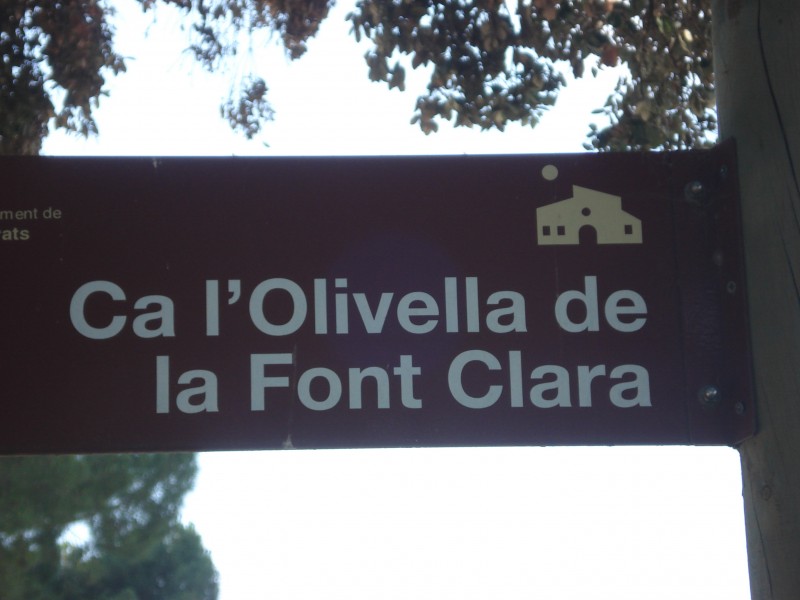 Summer is the perfect time to snack on fresh fruit, but a question I rarely ask myself is where that snack comes from. At home, I try to get most of my produce from farmer's markets, but in Spain I decided to go straight to the farm itself.
The Olivella-Font Clara peach farm is located in heart of the well known Penedès & Cava wine producing region of Spain in the hamlet of  Lavern, just 45 mins from Barcelona. Most of their crop is ready to pick by the end of June, and the season lasts until the end of August.
As we walk out into the field where hundreds of peach trees are in bloom, I can tell that the family that runs the farm takes great pride in their peaches. Josep Maria Olivella Rosell, who manages the farm along with his daughters, Esther and Gemma, explains that the soil is plowed often to maintain humidity, giving the peaches their intense color. He picks several peaches along the way, cradling them in his arms like a newborn baby.
Inside, Esther and Gemma peel some freshly picked peaches for us to taste. First, we try The Spring Lady – a bright yellow peach with an acid tang and firm texture. Next is The Pavia, which is softer and sweeter and has an intense red skin. The flesh of both peaches is fragrant and full of dripping juice.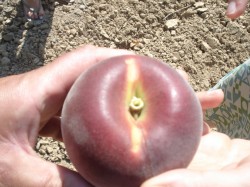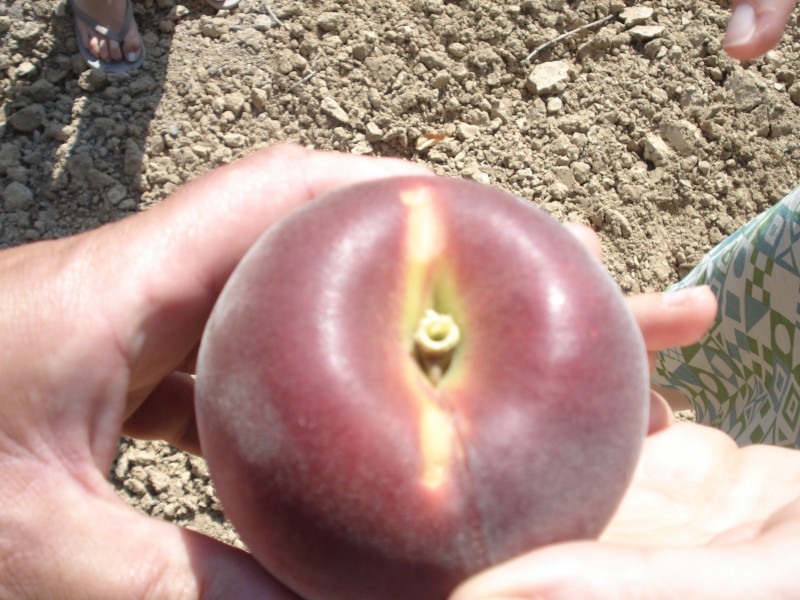 The sisters suggest buying a few peaches at a time, but we can't resist breaking the rule and bringing home a whole box of the delicious fuzzy fruit. It's unlikely that we'll be able to eat all of the peaches before they get too mushy, so we whipped up a few light summer recipes using peach as the key ingredient:
1.    Peach Summer Salad
Add thinly sliced Pavia peaches to a salad of mixed baby greens, chopped onion, and crumbled goat cheese. Toss with Avgvtvs Chardonnay vinegar, olive oil, and salt and pepper to taste.
2.    Peach Turnovers
Combine 2 Spring Lady peaches (peeled and chopped) with 2 tablespoons of peach preserves and 1 tablespoon of sugar. Roll a 12" puff pastry sheet on a lightly floured surface and cut into 12 circles using a cookie cutter. Spoon about 1 teaspoon of the peach mixture onto the middle of each circle and fold in half, sealing the edges with water. Bake at 375 degrees Farenheight until golden (about 12-15 minutes). Sprinkle with confectioner's sugar.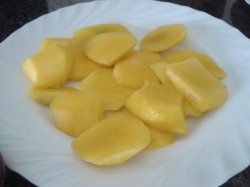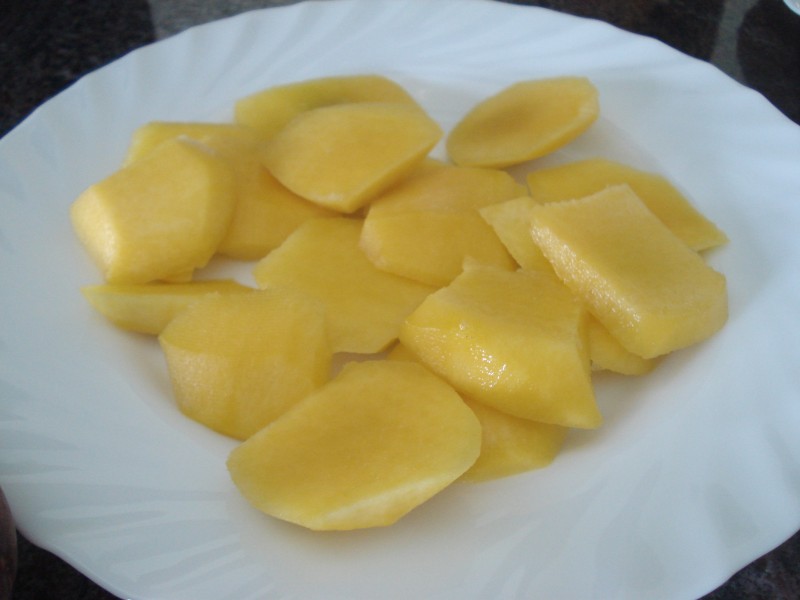 3.    Grilled Peach Sundae
For an easy summer dessert, shake cinnamon and sugar on thick sliced peaches and grill. Top with chopped walnuts and a few scoops of vanilla bean ice cream.
4.    Peach & Cava Sangria
This idea actually came from the Olivella-Font Clara owner himself. Mix 1 part Cava with 2 parts unsweetened white grape juice and some freshly squeezed lemon. Add a few Spring Lady peach slices to your pitcher and allow the peach juice mix in as the sangria chills.
Farmer's Tips for Finding the Perfect Peach
1.    Texture: At their peak, peaches should be slightly soft to the touch (not mushy).
2.    Appearance: Look for a yellow line across the top of the peach. If the line has green in it, wait another day or two to eat.
3.    Age: The Olivella-Font Clara farmers suggest eating peaches within about a week of purchase. Keep a firm peach on the counter for 1-2 days to ripen before eating.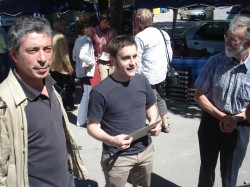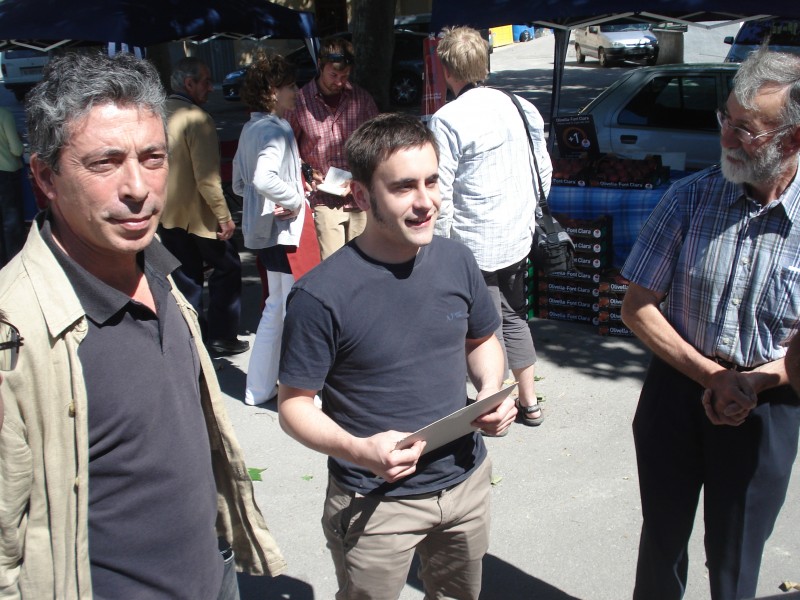 Unfortunately, Olivella-Font Clara peaches are only sold within Spain and some parts of Italy, but tourists can visit their stand at the Saint Paul Ordal market on Saturdays and Sundays during summer months. If you are doing a wine tour in the Penedès ask your guide to make a stop at the Olivella Font Clara  enroute to Caves Fèlix Massanas to buy some peaches and if you are lucky Esther and Imma  might just show you their now disused wine making cellar and tell you all about their grandfather, Joan Font Guasch – a wine tasting crack internationally well known since the 1960s. Picture on the left taken at the Saturday peach  maket with the village mayor (left), top Penedès Chef, Oriol Llavina (middle) and Top Cava producer Pere Guilera.
Below is an interview with Imma telling us all about farming peaches.
Kerrie Lopez, NY wine travel writer for Wine Pleasures.