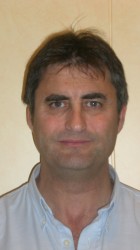 Josep Mª Suriol, Export Manager for PepWines uses the philosophy that his products should be of a very high level, working with both small and medium producers in Catalunya. Mr. Suriol considers three key factors when selecting wineries – quality of the product, design of the label and how the owner is with his winemakers. 
As an attendant of the Workshop in November this year entitled: Buyer meets Catalonian Cellar, we had the chance to speak with Mr. Suriol to gain some insights to exporting the best of the Catalonian cellar:  
1) How is the harvest going so far? Does 2010 look set to be a good vintage? The Harvest is going well, stopping a little bit because it has been raining some days, but the quality is really good – really good in Penedes for Cava, really good in other Catalonia DOs such as  TERRA ALTA, MONTSANT and PRIORAT.   
2) What types of wine do you make and how would you describe them? What makes them special? I represent different Wineries and Wines from Catalonia, and can describe them as: PENEDES, CAVA, PRIORAT, TERRA ALTA, MONTSANT, and One Winery without D.O. that I have baptized UNIQUE WINES. The last one is so named because the Winery produces Unique Wines; the first wine of 100 % SUMOLL in the world was made here, as well as the only over-aged Wine in the world made of 100% XARELLO. Now we're ready to bottle another unique product too – sweet wine made of 100% SUMOLL – I love it! Wineries make too very interesting Wines, with some awards in International events. 
3) What can you tell us about your customers who drink your wine? What other countries are you interested in exporting to and why? All the clients who buy my products do so on a long-term basis – I am not interested in selling my Wines to Importers for one time only – I have a close relationship with my clients, and our business and relationship grows step by step. I am happy with them and they with the category and price of my Wines. I am interested in selling my products to Countries that aren't already importing some of my Wines. 
4) How would you compare the workshop methodology to a large-scale wine trade fair? How do you compare the two and what are the strengths and weaknesses of both? The Workshop is more personal between the Importers and the suppliers, and Suppliers know before hand the companies that will assist in the event. It is very interesting for me as I can try and organize meetings with them before the workshop. A large-scale fair offers many potential meetings also but it goes on too long, is too expensive, and almost all them are outside Spain.
5) What effect does wine tourism have on your brand and marketing? Some tourists go to my wineries to visit them and taste some Wines – they like to be able to drink the products in the country of origin. And, at the same time they are in Catalonia, so they can visit us. Some of them like very much the labels we use, and ask us about who is the Designer.
Buyer meets Catalonian Cellar THE place for boutique wineries to meet with boutique wine importers.
Next Workshop Buyer meets Midi – Iberian Cellar