50 Great Sparkling Wines of the World by Wine Pleasures
Top 50 Sparkling Wines of the World. Our experts tasted through premium bubblies from around the Old and New World to bring you the best 50 available for 2017. Anthony Swift, Competition Director looks at the results.
Close on 100 sparkling wines were entered from diverse terroirs and countries such as: Argentina, Austria, Australia, Brazil, Chile, France, Italy, Portugal, Slovenia, South Africa and Spain.  Diverse too were the grape varieties used to make top quality sparkling wines such as Alvarinho and Touriga Nacional from Portugal, Trebbiano & Sangiovese from Italy, Macabeo, Perellada & Xarel.lo from Spain as well as the classic Champagne varieties based on Chardonnay and/or Pinot Noir made in Australia, France and South Africa.
In the case of sparkling wines made using the traditional method these were classified and tasted according to dosage and ageing time on the lees. Sparkling wines made using the Charmat method were classified and tasted according to dosage. This year saw a couple of Frizzantes make the 50 Greats.
Quality was high – all of the Sparkling wines included in the competition have scored at least 90 points. Traditional method production dominated the competition with some nice prices, most ranging from €6 to €35 Euros with several coming in at €40 and anything up to €145. Charmat method production wines range from €6.50 to €15
Sparkling Wines made using the Traditional Method
Champagne Collet wins the Traditional method production category with a Gold triple Esprit Couture (NV), Brut Vintage 2006 Collection Privée, and Millesime 2006 each receive a score of 97 points have been classified as Exceptional
10 Sparkling Wines also with Gold and classified as Exceptional are Soldati la Scolca D'Antan Blanc de Blancs Brut & Soldati la Scolca Spumante Brut by La Scolca (Piemonte, Italy), The Rosé by Velenosi (Marche, Italy), QM Alvarinho Super Reserva by Quintas de Melgaço (Vinho Verde, Portugal), La Pamelita & Insolitam by Lobban Wines (Penedès, Spain), Mascolino Metodo Classico Vino Bianco Spumante Brut 60 Mesi by Faccioli Enzo (Veneto, Italy), Brut Art Deco by Champagne Collet (Champagne, France), Cremant D'Alsace Brut Rosé by Caves Meyer Thuet (Alsace, France) & Montesquius Gran Reserva 2004 Brut Nature Magnum by Montesquius (Cava, Spain).
Sparkling Wines made using the Charmat Method
Welgemeend Estate Winery  Sparkling Symphony 2016 (Paarl/ Stellenbosch, South Africa) & La Canosa Brut Rosé (Marche, Italy) top the ratings each with 95 points and are awarded Gold.
Silver medal winners with 94 points include Bettili Cristiana (Friuli Venezia Giulia, Italy) Prosecco Brut Polzner and Velenosi (Marche, Italy) Passerina Brut.
The 2017 edition of 50 Great Sparkling Wines of the World takes the form of a 18 page full colour collectable publication and contains all the Gold and Silver medal winners with photos and tasting notes for each. The magazine also outlines how Sparkling wine is made, clarifies the difference between the Traditional and Charmat method. 50 Great Sparkling Wines of the World 2017 is available to view free and is a useful resource for both the trade and the end wine consumer/wine traveller.
Read more about 50 Great Sparkling Wines of the World>>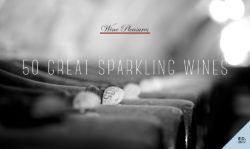 Also of interest:
50 Great Cavas 2017 – the best of Cava for 2017>>