I've tasted wine in a vineyard. I've sipped and slurped in many a dull function room. I've sampled wines in rustic cellars, on metal gang ways high above the fermentation tanks, next to barrels in quite a few cobweb-filled cellars. I've drunk wines at the back of a coach stuck in snow and, this week, in an old stone hut on the edge of a vineyard. Today was a first however – a wine tasting in a railway museum.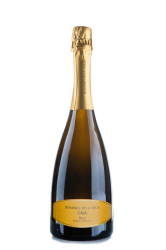 Sadly not in one of the period carriages – there was a fantastic 1950s first class compartment that looked more airline than rail side – but here we were between an old vernacular and a Victorian steam train in the Museu del Ferrocarril de Catalunya. The wines were from Dominio de la Vega. Just four: Cava Artemayor Brut Nature,  a 50 Great Cava winning Brut Reserva Especial (and very special it was too) plus two red wines made from bobal. After several days of full-on cava tasting the reds were a welcomed me diversion. Some preferred the young vibrancy and fruit of the younger wine, but for me the depth and complexity of the single vineyard (La Beata) won the day.
Now fully up to speed on the history, of gauges, expansion and financial situation of the Spanish railway since 1312 or somesuch we shunted on to the unexcitingly named Bohigas winery.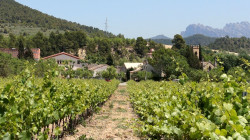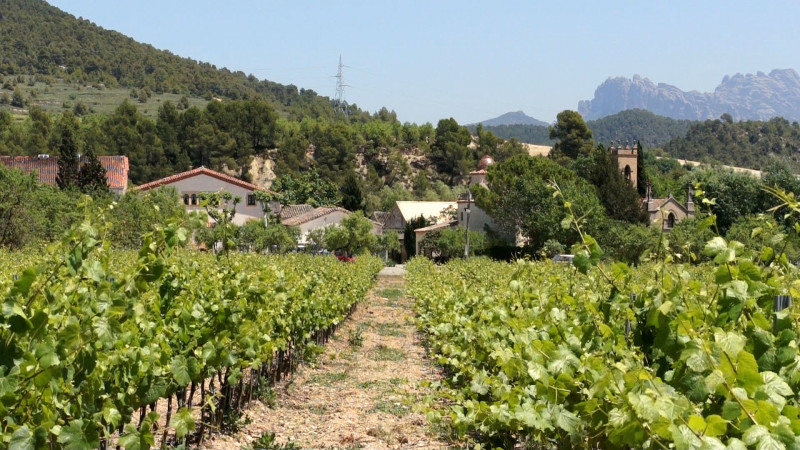 But what's this? A welcome rosé cava in the entrance court yard a stroll through the hot midday sun to the vineyards and on to a cooling glass of their Blanc de Blanc Xarel-lo, passing a church and Aussie outback style windmill on route. Then through the cellars, the traditional styled rooms of the family home – including a loft room packed with a totally eclectic mix of bric-a-brac , memorabilia and random 'stuff' (a golden cherub, a human skull, a wooden sailing boat, dozens of dust laden tins, picture frames, hanging handbags, a row of decanters, two gramophones, a pair of ballet shoes…) an amazing collection that revealed more strangeness the longer one lingered.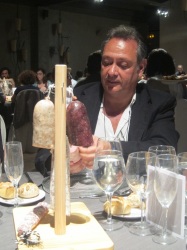 And then a legendary lunch food/wine matching. The opening tapas – tuna tartare, scallops over mashed potato and cabbage, mixed croquettes, were, to a dish, superb. In season trumpet mushrooms appeared under a fried quail egg topping a slither of bacon and a slice of crisp bread and also in a Risotto every bit as good as the best from Italy. The wine of choice for all these dishes was the excellent Udina de Fermi Bohigas – White Garnacha, Xarel-lo and a splash of Chenin Blanc of all things, made for a stunning intro to the lunch. Other wines served included the firm Fermi de Fermi Bohigas 2009 a Syrah/Samso blend (Samso being Carignan) and the yeasty, beautifully balanced, Noa de Bohigas cava, one of the 50 Great Cavas.
A fantastic visit. We've had some really fantastic wines during the first few days of the cavathron; these were some of the best.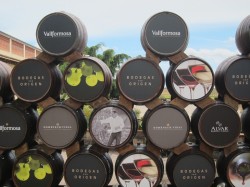 Continuing the day – a tour of Vallformosa which must be one of the larger producers in Catalyuna. Elsewhere this years harvest has finished but at Vallformosa the final tractor loads of Parellada arrived just as we meandered through the winery. Said tractors tipped the grapes while us photographers snapped away with iPhones and SLRs. I managed to grab a stunningly interesting vine video – its up on twitter if you really have nothing better to do… (twitter tag #50gc)
Many wines on show here. To our tired and jadded palates we introduced such lovingly blended delights as a gently coloured merlot/sumoll and a syrah/tempranillo and several finely structured cavas. The Vallformosa range is well worth hunting down.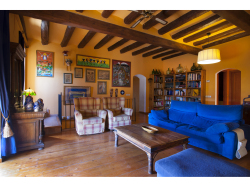 And that was Thursday. It ended with me getting lost trying to find my hotel room at Masia Olivera and making friends with a young alsatian. She slept on my bath towel at the bottom of my bed.  Another wine tour first.