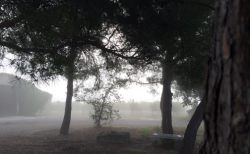 Although the day began foggy, we were treated to some great winery experiences and Cava tastings in Catalonia on Tuesday.
Mas Codina
Leaving the Sol I VI hotel and restaurant at 9am and after a half hour ride we reached Mas Codina winery in Puigdàlber where we were warmly welcomed by the newest generation, Tony and Imma. When we arrived the morning fog was gently kissing the vines in the vineyards.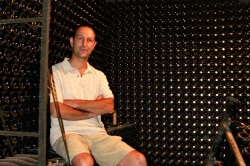 Mas Codina has 40 hectares with grape varieties including Pinot Noir, Chardonnay, Syrah, Merlot, Cabernet Sauvignon, Muscat, Macabeu, Xarel-lo and Parellada. Ninety percent of the grapes are hand harvested. The soil in the vineyards is a blend of clay and limestone. Grapes are usually harvested between August and mid-September.
Mas Codina Key Points:
Mas Codina produces still wines and Cavas. Vineyards are designated for each type.
Each grape variety is fermented separately.
White wines are fermented at 17 degrees Celsius.
The owners find there is a tendency to use the grapes from the oldest vineyards for producing Cavas.
Each year Mas Codina releases between 80,000 and 90,000 bottles of Cava. Total production is 120,000 bottles each year.
Wine Tasting at Mas Codina
We had a fun and delightful Cava tasting at Mas Codina. The first three tastings were with wine bases that will ultimately be used for producing Cavas. They all offered varying amounts of citrus especially grapefruit notes. We then tasted three of the 50 Great Cavas including Brut Reserva, Brut Nature Reserva and Brut Nature Gran Reserva. Too soon it was time to travel on to our next winery.
Llopart Winery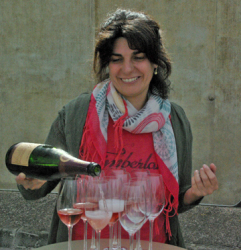 We traveled to Llopart Winery in Subirats for a tour, tasting and a Catalonian-style lunch. By the time we arrived at Llopart, the fog had dissipated and we enjoyed the brilliant sunshine. Llopart has a long history with vineyards established in the 1300s. It was in 1887 that Llopart began producing Cavas.
The vibrant granddaughter of the original owners and producers of Llopart's Cavas took us on an extensive tour. We walked from the newer section of the winery uphill to the older section that houses old cellars filled with centuries old tools as well as cellars filled with Cavas. After walking through the large wine cellar, we arrived in a room arranged for our lunch. During lunch we tasted several Llopart wines and noticed Llopart has a long history with vineyards establish in the 1300s. It was in 1887 that Llopart began producing Cavas. Visitors to the winery will discover a small vineyard library in front of the winery with examples of several grapevine varieties including: Macabeo, Xarel-lo, Parellada, Chardonnay, Muscat, Monastrell, Garnache and Pinot Noir. The average age of the vineyards is 35 years. Sixty percent of the vineyards are head pruned.
After the tour we were treated to a special lunch of numerous tapas. They included
Escalivada, Foie gras bread with foie gras. Mushroom tart, Pastel de atun, Blini de salmon, Pan com tomate y jamon bread with thin slice of meat, Brandade de bacalao, and Coca de seats y butifarra. Included with the tasty tapas we enjoyed several of the Llopart Cavas.
Cuscó Berga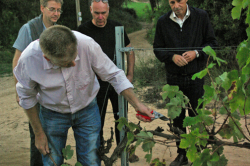 Our last winery for the day was Cuscó Berga winery where we participated in a most unique tour of some of the winery's vineyards. We enjoyed Cava tastings during the tour again while enjoying a delicious homemade created dinner.
The Cuscó Berga vineyards are not located near the winery that is at the top of a hill in a village. Rather the vineyards are located deep in a valley. We stopped at one old vineyard that is to be replanted. It was rather sad that such old vines couldn't be brought back to healthy grape production. Later on the bumpy trail we saw an old stone hut. Stopping by we discovered a doorway in the hut. This stone hut was built by the brothers' grandfather to shield vineyard workers from severe weather. Our small group entered the hut and enjoyed tasting Cavas in the unusual ambiance of a stone hut.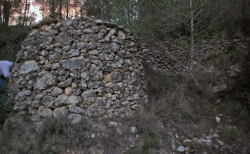 Returning to the winery we enjoyed a delightful pasta-style dinner preceded by nibbles of potato chips, nuts and olives. Dessert was chocolate covered balls topped with whip cream.
Tuesday we stayed at the Barcelona Golf Hotel. The hotel is spacious including large individual rooms. The resort hotel is located about 20 minutes from El Prat airport and 30 minutes from Barcelona. The hotel offers an array of different spa services including a wine spa.
Here's what's coming for the 50 Great Cavas Media Tour on Wednesday, October 8.
VINSEUM, Museu de les Cultures del Vi de Catalunya (We will also taste Cavas from Mascaró winery.) Juve & Camps winery A visit to the Consejo Regulador del Cava The day will end at Cal Jafra.
Here is to looking to another great day on Wednesday!