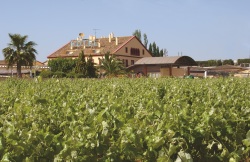 The 50 Great Cavas media team arrived in the Penedés wine region on Monday. We checked in to the hotel Sol i Vi in mid-afternoon. From the hotel we visited Andernats for a winery visit, wine tasting and evening dinner.
Hotel Sol i Vi 
Hotel Sol i Vi is a hotel surrounded by vineyards. The onsite restaurant has several sections and is suitable for meetings, receptions and weddings. They can seat more than 1,000 people. The restaurant has an impressive wine list with over 60 Cavas and 70 wines from the Penedés DO. Miquel Gisbert commented that they encourage patrons to try the Penedés DO wines or the Cava DO wines. There are also wines from other areas of Catalonia, other Spanish wine regions and France. Miquel smiles and said, "Our Cavas are better." Have a glass of Cava as you scan the list of wines.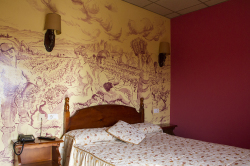 Hotel Sol i Vi rooms are comfortable and furnished with sturdy country farmhouse-like furniture. One wall in our room had a blue and white mural of a grape harvest. It depicted vineyard workers with full baskets of grapes and other workers still harvesting grapes from the vines. As we looked out the sliding glass door, we saw vineyards in the distance. You get the feeling that you are in wine country.
Andernats Vinícola de Nulles
I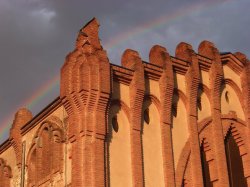 n late afternoon, our media group filled a van and headed to a wine cathedral, Andernats Vinícola de Nulles. In the early 1900s most families in the town of Nulles grew grapes and made wine. After phylloxera destroyed the grape vines in Catalonia, the inhabitants decided it would be better to work together than separately. The towns people started by cooperative in 1917. The group hired César Martinell, a modernista architect known for designing wineries that were cathedral-like. The winery building was started in 1919 and completed in time of the first crush of 1920.

We started our visit with a Cava Reserva Brut Nature. The refreshing Cava wet our appetite for knowledge and more Cava. We ambled out to the vineyard and leafed that there are 130 partners that grow grapes and sell their grapes to the winery. After our vineyard walk we strolled through the winery. Large vats and tanks filled the cathedral nave. Above the tanks a vats there was another floor and above this level was a vaulted ceiling. The winery did resemble a church.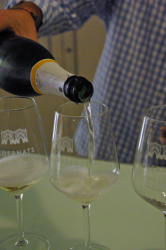 Our next stop was a tasting of four Cavas. One of the Cavas made the list of 50 Greatest Cavas. We tasted the XC Grand Reserva, a Cava made from 100% Xarel-lo. The wine spent 45 months bottling aging during its bottle fermentation.
Dinner
After climbing a metal staircase with votive candles to illuminate our way, we walked on the top of vats to an area set up for our dinner. The setting was wonderful with brick work surrounding us and the vaulted ceiling above. The dinner consisted of five courses paired with wines. Our third course was special. We were asked to put on blind folds. A wine was place on our plate as well as a food item. In darkness we tasted the wine and ate the food. It was easy to guess that the wine was a Cava. Some in the group correctly identified the Cava as the Reserva Rosat made from the Trepat grape. A little look is worth a thousand finesses. The food items were placed on a skewer and included a cherry tomato, watermelon, pineapple and another cherry tomato. This ended up being rather fun to try to guess what you were drinking and eating while blindfolded.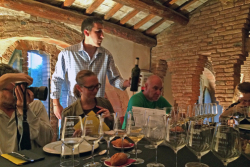 The courses on the menu and wines included:
A tomato and watermelon gazpacho with anchovy
Essencia
Tartarí de salmón ahumado con cebolla de Figueres y salsa de yogur especiada
            Maridaje sorpresa – Reserva Roast
Meloso de cerdo ibérico con salsa de Ànima
XC Grand Reserva
Postre Adernats           
Our media group enjoyed visiting Andernats Vinícola de Nulles and it Cavas and wines. The dinner was quite special.
Coming up on day 2 on the 50 Great Cava Media Trip are visits to the Mas Codina winery, visit, tasting and lunch at the Llopart Winery and in the evening visit, tasting & dinner at the Cuscó I Berga winery.  Accommodation Barcelona Golf Hotel
Terry Sullivan, Wine Trail Traveler