Following on from the huge success of the 1st ever live wine tasting at the Bohigas winery (DO Catalunya), the Wine Pleasures team travels to the Celler Mas Foraster winery in medeaval Montblanc in the heart of the DO Conca de Barberà wine region of Catalunya for the our 2nd live wine tasting.
This time we will be joined by 4 Norwegian wine lovers of the 7 På Druen Wine Club travelling to Spain to participate in a 4 day winery visit programme organised by Wine Pleasures.
Read more
The following wines will be included in the live wine tasting: Josep Foraster 2008 (90% Tempranillo & 10% Cabernet Sauvignon), Josep Foraster Criança 2005 (60% Cabernet Sauvignon & 40% Tempranillo), Josep Foraster Selecció 2005 (90% Cabernet Sauvignon & 10% Tempranillo) and Josep Foraster Blanc Selecció 2008 (Garnacha Blanca 40%, Macabeo 30% & Chardonnay 30%)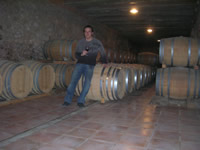 Ricard, winemaker at the Celler Mas Foraster winery will lead the live tasting on Friday 4 September at 12.00 (GMT + 1) We will also be chatting about wine tourism at the winery and in the Conca de Barberà region.