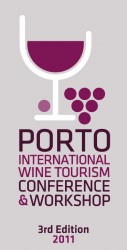 At last it's out! – the official International Wine Tourism Conference & Workshop Programme Preview and we are very proud to present another packed conference programme of not to be missed talks. We have five world-class plenary speakers as well as over 40 workshops and talks. We are offering more wine tastings and matching sessions than ever before and we are extending our programme to include daily Social Media Clinic sessions for participants.
Taking place at the Palacio do Freixo, Porto , Portugal from 31 January – 3 February 2011, the event's third year promises to be an outstanding one as the wine and travel world recognize the importance of the event in the global meetings calendar.
The International Wine Tourism Conference will bring together a community of some 300 wine and travel professionals at a time when networking and business relationships has never been more important. With increases in 2010 in both conference delegates and tour operators and travel agents participating in the Conference and Workshop, the event brings together the largest gathering of wine and travel professionals from around the world, to what is a truly international showcase for the wine and tourism industries.
Featuring over 40 talks, a jam packed after conference programme and a record number of tour operators specialized in wine tourism, next year's International Wine Tourism Conference will attract industry players either new or returning to the event. These include Celebrity Wine Review TV (Hollywood – USA) , The Yeatman Hotel (Oporto – Portugal), Sogevinus,(Portugal) Food & Wine Travel (Australia), VinTour (Germany), DuVine Adventures (MA –USA), Epicopia (Texas – USA), Fine Wine & Gourmet Travel (Miami – USA), Grupo Natura – Baccus Wine & Food (Spain), Alfran Tour Operadora de Turismo (Brazil) & Vineyard Adventures (Italy)
The Conference's reputation as providing the best in professional education will be further enhanced with its most comprehensive bespoke programme yet with a mixture of talks, workshops, social media sessions and daily debates. Serve yourself a glass or two of your favourite wine while you take a peek at the Preview Conference Programme.
Away from the conference, participants can make the most of the opportunities to meet both old and new colleagues at a range of networking events taking place during the week, including a pre-conference programme with winery visits, chocolate and port matching, jazz and wine matching and wine tastings from countries as diverse as Chile, Turkey, Portugal, Italy and USA.
New for 2011 will be a Social Media Clinic for those of you looking for advice and help on how to manage better your social media campaign.
If you think that any of your colleagues would benefit from the excellent opportunities at the International Wine Tourism Conference and Workshop, it's not too late to register.
Finally, on behalf of the team, we look forward to welcoming you to Porto at the end of January and are sure your Porto experience will be one to remember.