Wine Pleasures Workshop for Buyers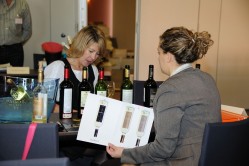 Wine Pleasures Workshops bring together small to medium sized wine producers who do not usually take part in the large wine & food trade fairs with wine importers, with the aim of establishing business relationships between them. Over two and a half days, buyers hold personalised and productive, pre-arranged meetings and tastings with carefully selected wineries in a private meeting environment. A limited number of Buyers are hosted at Wine Pleasures Workshops according to their geographical location and providing they meet our selection criteria.
Dates & Venues for 2014
Buyer meets Iberian Celler (10 – 12 February 2014) Hotel Barcelona Golf, Barcelona
Reverse Trade Mission to Spain for Wine Importers (10 – 14 February 2014) Includes Workshop + winery visit programme
Buyer meets Italian Cellar>> (3 – 5 November 2014) Venue TBA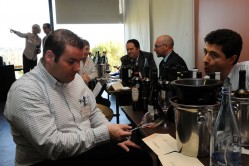 Buyers appreciate the Wine Pleasures Workshops because they can find new wine suppliers not normally present in the large trade fairs, meet the winemaker in a highly personalized setting, taste the latest vintages, discuss imports, prices and timescales, discover new products and attractive labeling and packaging, and appreciate the excellence in price-quality.
What is an Invited Buyer?
If you organise, influence or make wine purchase decisions as an importer, distributor, retailer, agent or as a member of the on-trade then you could be eligible to attend the Wine Pleasures Workshop as an Invited Buyer.
Why attend?
With the current pressure on budgets, let Wine Pleasures host you for this dedicated business opportunity. As an Invited Buyer, you will benefit from:
*Subsidised flights to nearest international airport & scheduled transfers from the airport to event venue.
2 nights accommodation
A personal itinerary of appointments with your choice of winery
A range of dedicated networking opportunities throughout the event
Seminar programme relevant to your business
Wine and food matching at lunches and dinners
*See terms and conditions on the Registration Form
Methodology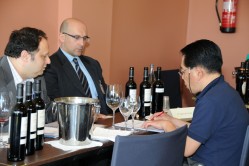 The Wine Pleasures appointment system offers buyers direct and total control over the types of winery – and wine producing region – they arrange to meet during the event.
1. Leading up to the workshop
Before the workshop buyers are supplied with details and profiles of participating wineries and viceversa. Buyers and cellars then begin to mutually schedule appointments according to the workshop timetable.
2. During the workshop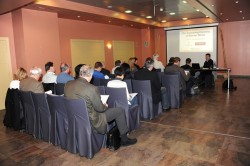 On the first day of the event there will be a seminar relevant to the workshop title followed by a self-pour, no talking tasting of the wines represented at the workshop without having to exchange vapid pleasantries with producers. After, additional appointments may be scheduled through personal contacts between buyer and cellar.
Buyers registering an accompanying person from the same organisation are able to schedule parallel appointments simultaneously throughout the event, thereby doubling the effectiveness of their participation.
What Wine Importers Have Said About Wine Pleasures Workshops
The following links are interviews made during the Wine Pleasures Workshops and will give you a great deal of insight into the event and the profiles of wine importers who have attended in past editions.
Marble Hill Cellars Pays No Attention to Wine Scores Candela Prol, wine buyer for Marble Hill Cellars, NY, USA
Tall Order Exporting Wines to India! Mithil Khanolkar from FineWinesnMore, Mumbai, India
Spanish & Portuguese Wines receive the Chinese Toast Gambei!! Sandy Ou from Beijing DYX Trade CO, Guangzhou, China
Only the Best Terroirs for Toronto Based Wine Importer Matthew Naranjo, CEO of Terrior Wine Imports, Toronto, Canada
USA Wine Importer J.W.Sieg Hopes for "Cohesive Understanding of Iberian DO's at Wine Pleasures Terry Shiple, Director of Portfolio Development for Virginia, USA based wine importer J.W. Sieg Wines
Terra Firma Wines Looks for Relationships at Wine Pleasures Nicholas Hirons, founder and owner of Terra Firma Wines, Canada
Vyno Klubas Import Pioneers of Boutique Wines to Lithuania Arunas Starkus, owner of Duda ir Kompanija and Vyno Klubas, Lithuania
"We don´t go to large-scale wine trade fairs.We don´t believe in them" Peggy Herman & Walter Verstappen, directors of Vivanda Projects, Belguim
Wine Producers "Don't let your ego get in the way of reasonable pricing" Brian Gwynn, founder & owner of Specialty Wines and More, New York, USA
Iberian Fine Wine Collections Massachusetts Bound? Barry Savage, Founder & President of Fine Wine Collections, Massachusetts,United States
Filipinos Like it Sweet & Fruity Pacholo Garcia-Morera, Espa-Fil Import Export Corp , Manila, Philippines
Speciality Cellars to Attend Workshop Buyer meets Catalonian Cellar Wesley Kollar & Jennifer Guran of Speciality Cellars , Santa Fe Springs, Los Angeles, USA
Serious wine importers say "we don't go to large trade fairs – waste of time!