50 Great Cavas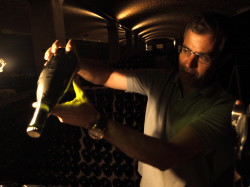 Welcome to the 4th edition of 50 Great Cavas 2014, where our bubble experts select and highlight the most exciting cavas from the numerous entries received.
Back in 2000, the cava world did not have a unique guide and since then the publication is sought after by bubble lovers and recognized as an authority on cavas in the wine import industry.
As always, we selected the Top 50 by looking at body, colour, clarity and bubbles. We tasted for acidity, mouth-feel and mousse, finish, balance, sweetness and overall flavour. We searched deep for primary and secondary aromas and bouquet.
Cavas were classified and tasted according to dosage and ageing time on the lees. This year's blind tasting has been an exceptional one as (after much debate) all of the 50 Great Cavas 2014 have scored at least 93 points. Some nice prices too ranging from 5 to 50 Euros making them affordable for not only special occasions but also for aperitifs and slow cooking meals with family and friends.
Many of the 50 Great Cavas may well be difficult to find in your local wine shop. That being the case there is an online solution to tasting the 50 Great Cavas in the comfort of your own home thanks to a synergy with online wine retailers Decantalo.
It's human nature to make lists, to rank our experiences by their value and interest. We hope you'll take pleasure in reviewing our choices of the great values, emerging new wines and proven names that make up 50 Great Cavas 2014.
If you are ever in Spain take time out for a 50 Great Cava Wine Tasting Tour and visit some or all of the 50 Great Cava producers 2014!
50 Great Cavas 2014
Download the book as a pdf here>>
See what the media have been writing about the 50 Great Cavas in: